Form E-mailer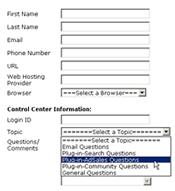 The form email utility allows visitors to your site to communicate with you. A form can be added to your site in minutes through the use of simple HTML code. Visitors can type information into the form and submit it through the form on your page; you receive it in an email directly in your inbox.
The possibilities of these forms are endless. For example; you can have visitors give feedback about your website, conduct surveys to collect specific information about visitors, create a simple order form allowing users to select products and supply contact information, allow visitors to subscribe to your mailing list by inputting their email address, run an online contest, or use it to allow visitors a fast and reliable path to let you know when there is a problem with your site. And these are just a few of the uses for the form emailer.
Forms are universal and can be added to your Sitebuilder website or added in to your custom website. Forms can be customized to fit your needs, allowing you to require certain information be entered and have other information optional. You can select from numerous input fields such as; text boxes, pull down menus, radio buttons, or check boxes, to create the perfect form for your visitors.
Advanced features for the form emailer are also available. These include the ability to send the results to a text file, email multiple addresses, and send a confirmation of submission to the visitors email address.

Free*

Want a website but don't want to pay for hosting? Then this is the right hosting package for you.

Ads on your site
50 MB disk space

*With purchase of a domain, prices start at $22.95

Starter Hosting

Perfect for sharing photos, having a family website or promoting your business.

No ads on your site
1 GB disk space
FTP for fast, easy file upload

Personal Hosting

Best hosting value with space to grow. Provides the most functionality and flexibility for your needs.

No ads on your site
5 GB disk space
CGI Access: Perl, PHP, MySQL, FTP
WordPress 2 blog